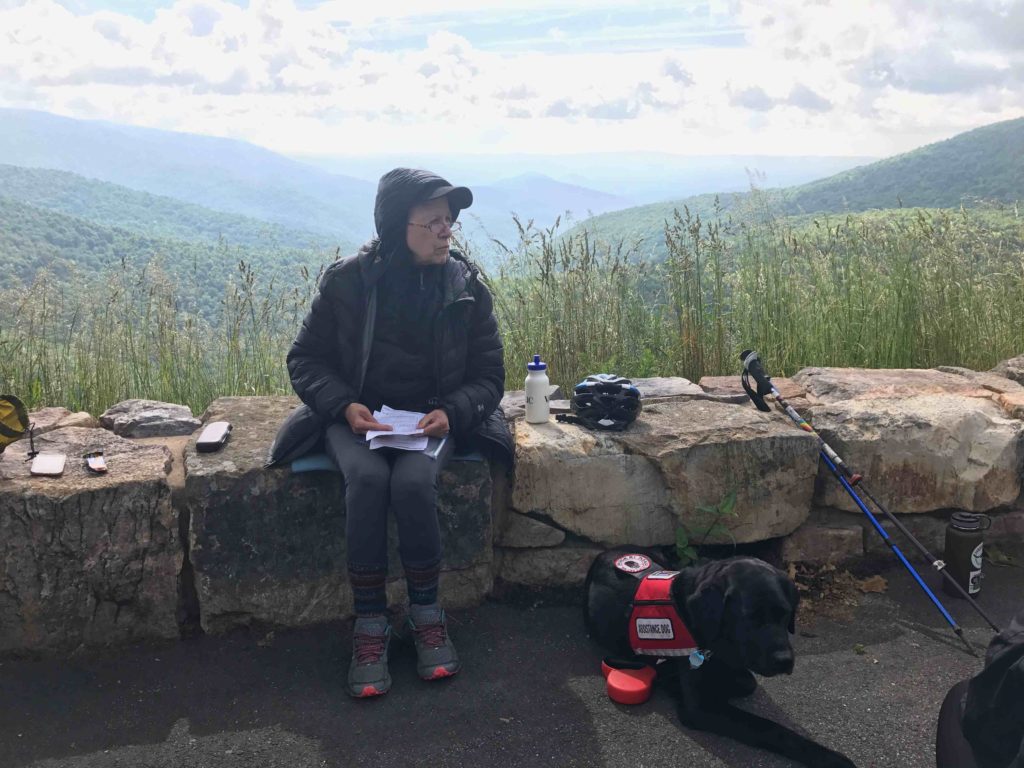 Hi, everyone! It's Saint. Or should I say Truffles? If you haven't been in the loop, I now have a trail name! Why Truffles, you ask? Don't worry, I'll get to that. Just be patient. I have so much to tell you!
Mummy and I spent 10 days on the Appalachian Trail in June. We made a lot of new friends, and everyone had a great time! And, you should all know that I've become quite an avid hiker. I've never been so fit before! I hear Mummy brag about me to people and even some of her students have commented on my physique. It's kind of nice. I worked really hard! Sometimes, and don't tell anyone, I sneak a few peeks at myself in the mirror.
Now, I know you're probably wondering about my new trail name. Well, when you are on the Trail, there are so many smells to sniff. I can't help myself. Everything is so new and green and yummy, I have to take a whiff! I tried to get the others to try it. I guess they didn't want to get their noses dirty. Anyway, some people said I sounded a bit like a pig sniffing for truffles, and so that's how I got the nickname. I guess truffles are very tasty mushrooms that grow in the ground. Who knew?!
Some of you are probably wondering where I walk, since Mummy is often being carried. Well, I usually walked in the very back. I could still see Mummy and of course I had to make sure that I was behind her if she needed me. One of the carriers usually walked with me, so I wasn't lonely. The person who got done carrying Mummy would come to the back to walk with me. I got to know everyone really well this way. Everyone was so nice. And I'm pretty sure everybody wanted to be the one to walk with me. I'm a great hiking companion!
Mummy and I are taking a little break right now and are home in Maine for a bit to take care of some things here. But don't worry, we'll be on the road again in a few weeks. I'm so excited. I have the best life ever!
Well, my hands are a little tired from all this writing. I'm still resting up from the hike. But I'll be talking to you all again soon. Mummy and I have many more adventures up ahead. Bye for now!