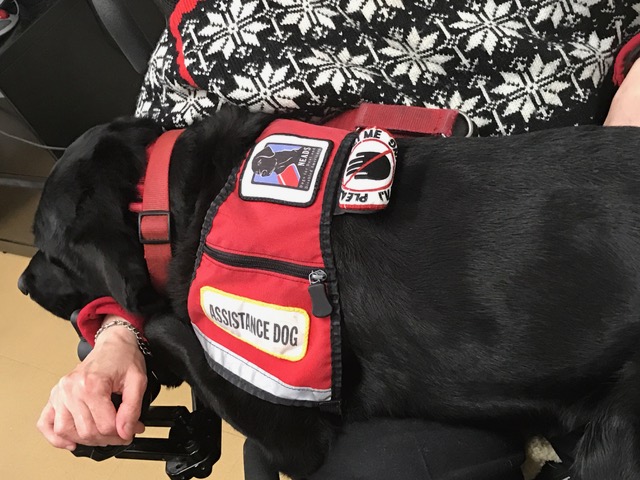 Hello!  Saint, here.  It's been a very busy week for Mummy and me.  We had to pack my food and Mummy's clothes and get on a big airplane to fly to Albuquerque New Mexico.  I don't really know where that is, but Mummy said it was a too far to drive from Maine, so we had to fly.
Mummy and I don't like to fly.  We don't do it very often because it's really difficult for Mummy.  People are very nice, but Mummy has to get in a different chair that fits on the plane and the people the  at the airport store her chair somewhere else.  Mummy says it's with the luggage, but I don't know where that is.  She says that chair is heavy and flying always seems to break it.  It can be very frustrating for Mummy.
She says, however, that it's just a challenge and that she is not going to let that stop her from traveling.  Mummy sure is an adventurer!
I had a big job this trip!   Not only did I have to protect Mummy, I had to help other people, too.  As soon as we boarded, I noticed a woman near us who smelled scared.   Remember how I can smell emotions?  Well, this nice lady was very, very nervous.  I guess she didn't like being on the plane with us.
Once we got in the air and Mummy said I could move, I went over and sat near her to say hello.  She liked me.  When she began to pet me, I leaned in to her.  This is my way of getting closer.  She responded by petting me and talking to me.
She was nice, and I could tell my protection was helping.  I asked to climb on her lap by putting my paw on her knee.  She accepted.  So up I climbed.  This made her laugh.
I settled down on her lap and got comfy.  I looked at Mummy to make sure it was OK.  She was fine.  She's not scared of flying.
I decided to stay and have a nap on the nice lady's lap.  When the plane started to go down and begin its landing, I felt the lady wrap her arms around me for support.  I don't really like landing either, but I was super brave because this woman needed my help.  She hugged me and talked to me the whole way until the plane came to a stop.
It was a big job protecting her, but I was so happy to do it.  She didn't smell scared anymore.  She thanked my Mummy for sharing me and gave me a hug before she left us.  I hope she is OK when she flies again.
Mummy and I had quite an adventure in Albuquerque.  We went to a conference, met lots of people and discovered that accessibility is extremely limited in that city.  Mummy was glad to be going home.  I think she was very tired.  I know I was.
When we got on the plane to fly home, I immediately noticed another young woman beside us.  She was dressed funny.  She had one of those hooded things over her head, but I could tell she was sad.  She was quiet, but I knew.  She even had water leaking from her eyes.  I immediately went over and leaned on her for support.
She melted with my touch.  She reached out and scratched me gently.  I leaned a little harder, pushing into her, showing that I was there and that I cared.  She seemed to like this and never took her hands off me the entire flight.   She even spoke to Mummy some, although she was pretty quiet.
I climbed on her lap so she could feel and hug me and so I could help her feel better.  I didn't like her sadness.  She seemed very lost.  She told Mummy that she was coming to Maine to find herself.  I thought that was funny because I had already found her.  Maybe it had something to do with why she was so sad.
By the time we landed, the lady's eyes had stopped leaking and she was a little chattier with Mummy.  We said our good-byes, but I've wondered about her since we got home.  I hope she finds herself.  I think she needs a friend like me.  Then she'd never be lost.
By the time Mummy and I got home, we were very tired.  It had been a long trip.  Mummy said I was a super good girl and that it was very special and kind for me to help those nice ladies.  I like it when Mummy praises me.  I love Mummy very much.
Traveling is always an adventure.  But getting home is always better.  Mummy and I climbed into bed and had a good, long, much-needed rest.