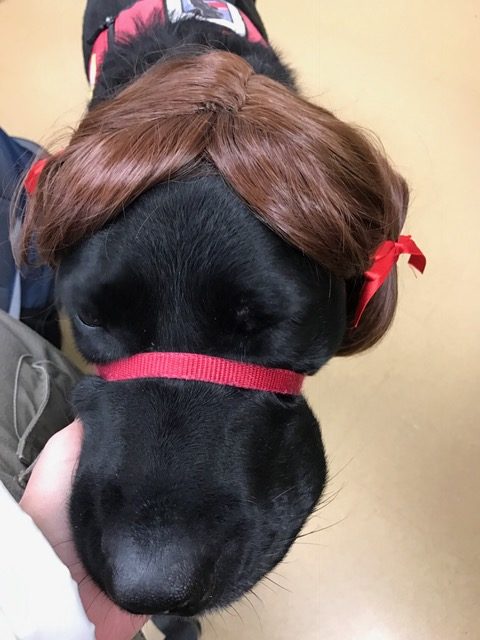 Trick or Treat!  Hi everyone!  Did I fool you?  It's me, Saint.  I'm dressed up for Halloween.  Do you like my hair?  I'm supposed to be Dorothy from The Wizard of Oz.   Mummy thinks I'm beautiful with it on.  I feel a little silly though.  I prefer the short hair that Mummy and I have.
Mummy and I are having a fun day at campus.  All of Mummy's classes are playing dress up too.  Everyone has come in fun costumes and we've had snacks.  My friend Kelly even brought me carrots.  She totally gets me.
Did you know that if you put on a costume and go to people's houses on October 31st that you can get treats?  Mummy says that young humans get chocolate for this.  I don't eat chocolate.  I've smelled it before, but it doesn't smell as good as my carrots.  I'm not so sure about this game of tricks or treats.  It seems a bit sketchy.
I'm glad Mummy doesn't go.  It sounds like a lot of work to me.  I'd have to get in her lap a lot to protect her from strangers.  You kids are very brave to go to human homes you don't know.  Isn't that scary?
Oh!  Mummy just told me it's not scary.  Apparently all the humans play this game together and are super nice to kids.  Some even take pictures and there is a lot of laughing.
I suppose it's OK if you all like Trick or Treating.  Please be careful though!  Only go to safe neighborhoods and try not to get a bellyache from eating too much.
Mummy and I have lots to tell you next week.  I'll check back in soon.  Have fun, but don't let any goblins chase you.