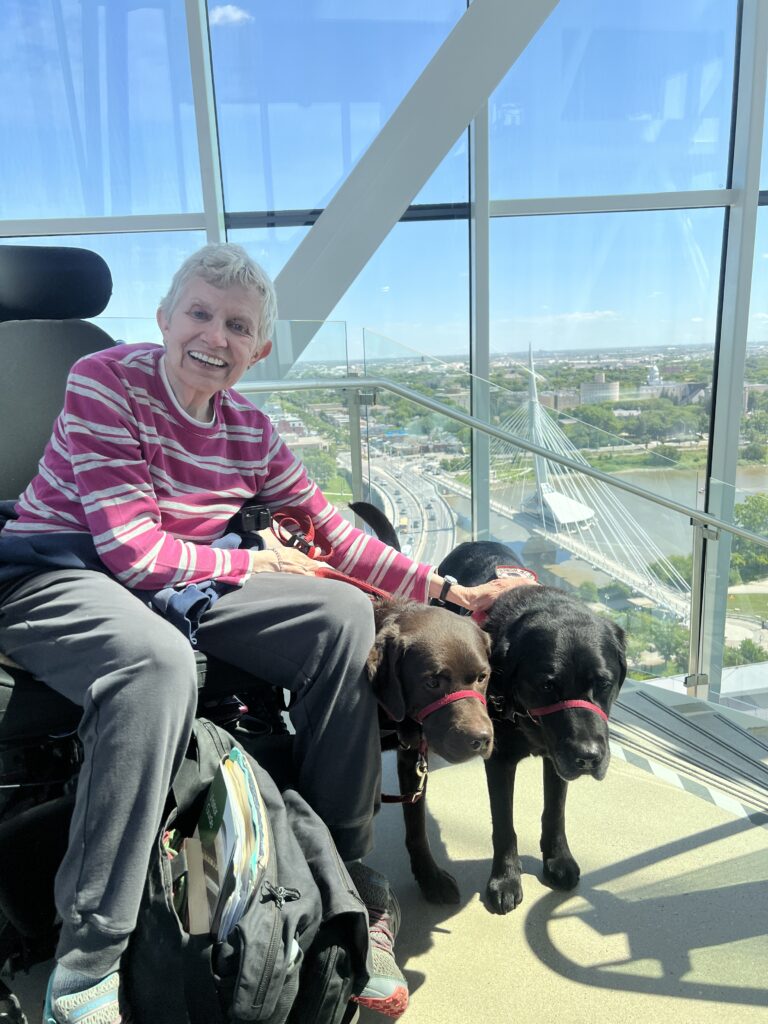 Hello, Everyone! Saint and Dusty here.
Mummy drives our van, Miracle, using hand controls. There is no driver's seat. Mummy deploys a ramp, rolls up it into Miracle, folds up the ramp, and locks into the driver seat space in her wheelchair to drive. Since she can't use her feet, she has to do everything with her hands. With her right hand, she uses a spinner knob that allows her to completely control the steering wheel and make the sharpest turns with only one hand. It clamps onto the steering wheel. Mummy's is egg shaped. That's more comfortable for her little hand than a round shape. It has blue tooth toggle switches that she can use for her directional signals, bright lights, and windshield washing. She uses her left hand for a lever that ties into the brake and gas pedals. She accelerates or brakes using that lever: down for gas, forward to brake.
Mummy has been using hand controls for many years. She has never had a problem with them—until we were driving across Manitoba, toward Winnipeg, on August 10. Suddenly, the spinner knob fell off the steering wheel into Mummy's lap. This was a terrible feeling. We were still more than 2,000 miles from home. How could we make it that far without our spinner knob?
If this was going to happen, it couldn't have picked a better location. Manitoba is very flat and the roads are quite straight. (We are so lucky that this did not happen in the Rocky Mountains.). Mummy managed to tamp the spinner knob back onto the wheel so that she could use it, although it kept falling off.
When we got to Winnipeg, Mummy took the spinner knob, put it on the steering wheel, and lined up the set screws. (They were still in the spinner knob.). She didn't think that she had any tool small enough to tighten the tiny screws. Then she remembered that she had a small file on a little Leatherman tool on her key fob. So she was able to use that.
In Winnipeg we saw one of Mummy's former students, Terry Lewycky. He came to see us to catch up and brought some tools. We were also able to borrow an Allen wrench from the hotel maintenance man. So we got the spinner knob back on good and tight.
We didn't want all this excitement to prevent us from going to the Canadian Museum for Human Rights in Winnipeg. We had been looking forward to that for so long. So we went on Friday, August 12.
This was the first Museum for Human Rights in the world. It is an amazing place and so accessible. The parking was fantastic. The bathrooms were the embodiment of accessibility. We saw many exhibits and films. The lower levels of the museum focus on Canadian Human Rights. There was much information about Indigenous/First Nations people and Metis. Higher floors looked at Human Rights, globally. You could spend weeks there and not see and absorb everything.
The docents had urged us to be sure to go to the top of the Israel Asper Tower of Hope. People can climb the steps, which symbolize the challenges of achieving Human Rights. Fortunately for us, there is also an elevator. It's very moving and humbling to be at the top. On a clear day—and we were there on a very clear day—you can see all over Winnipeg and beyond.
We are including a photo of us with Mummy at the top of the Israel Asper Tower of Hope. Our dream is that you draw some hope for Human Rights from it. As Mummy always says: We All Can Make a Difference. We All Can Be That Difference. Let Us Start Today.
Until next time, folks. Take care. Be well. Hugs and wags.
Dusty and Saint