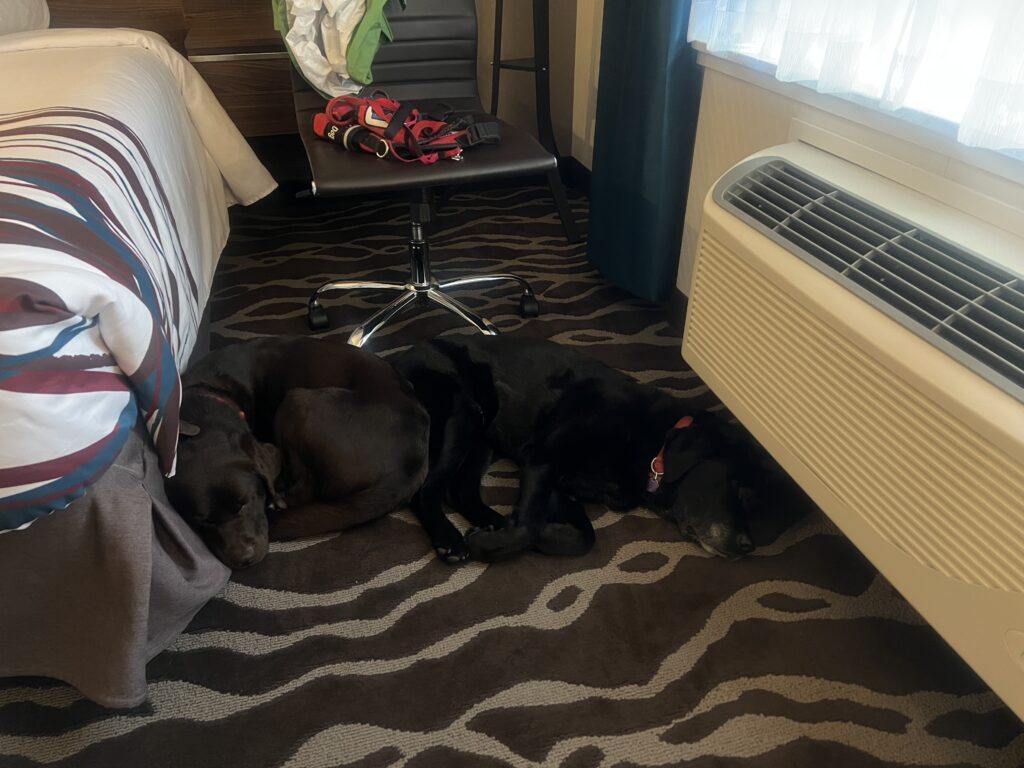 Hello, Everyone. Saint and Dusty here!
We know that we promised to be better about blogging. Life sort of happened for us. We set out on July 4, Independence Day. How cool is that?
We ran into computer problems right away. Mummy's been trying to get them resolved since.
We've gone about 4,000 miles. We have had some really neat adventures. As we drove across the northern U.S., we were able to visit with some old friends along the way.
Our rooms have mostly been very nice. Mummy is documenting how accessible they are. We want everything to be just right for Mummy.
As we've gotten further west, the distance between our lodging stops has increased: lots of space out here.
You might wonder what we do all day while Mummy is driving.  Uncle Al built a really neat dog couch for us that makes the backseat twice as deep as usual so that we can relax in style.  We feel very comfortable in Miracle, our van.  She is our home away from home.
We know that the days do get long for Mummy with all that driving.  So we are working extra hard to take care of her. 
Yesterday was a long day of driving. So today is a rest day. This morning we walked to a grocery store and got our favorites: carrots! You can't conquer the world without carrots. Now we're just hanging out while Mummy does some writing.
We have a few more provinces to go through before we reach Alaska. So we better rest up.
Take care. Be well.
Saint and Dusty