Hello, Everyone! Saint, here. Boy, have Mummy and I been having some wonderful times these last few days. So I had just had to share a bit with you.
On Wednesday, June 19, we left Cedar City. It was kind of hard to go and leave all those wonderful memories. But Mummy reminds me that we always carry memories in our hearts.
We were heading up to northern Utah. But on the way, we stopped off in West Jordan, a suburb of Salt Lake City. There we spoke with the West Jordan Rotary Club. What a wonderful group pf people. They made us very welcome. We talked about BEYOND LIMITS and our philosophy of building community and defying the notion of "can't." One of the Rotary members works in a doggie bakery. So she brought me some special treats, including a "pup cake." Boy, dogs in Utah have some really neat things.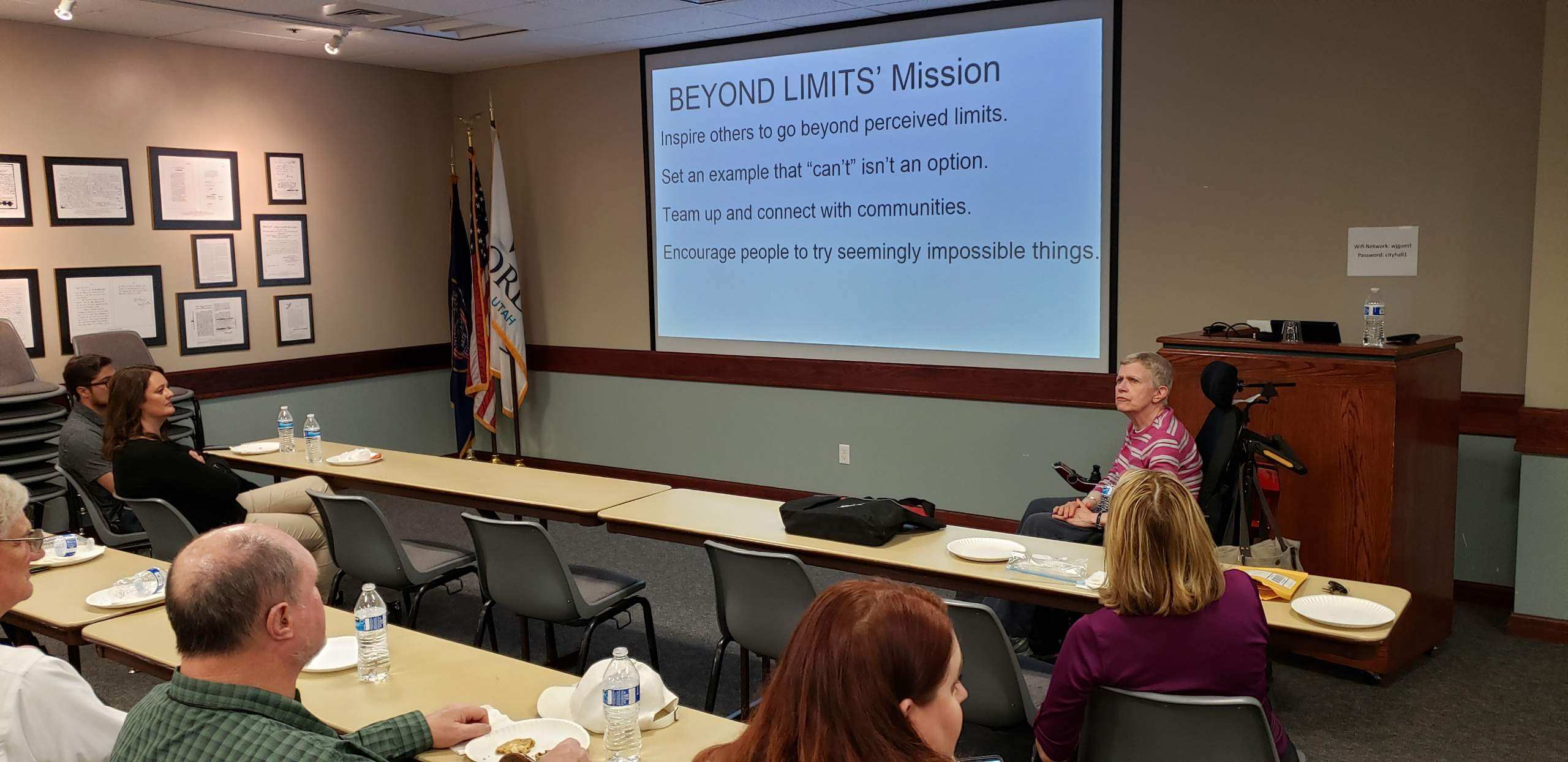 The West Jordan Rotary is where we met up with our friend Pete Cardon.
After the Rotary meeting, Pete took us over to the Field of Dreams. This is a fully accessible ball field that the West Jordan Rotary built with know-how, perseverance and lots of guts and determination. The greater Salt Lake City area probably has more than 1 million people in it. So there are lots of little ones who can benefit from a field in which they can play ball and be like anyone else. That meant a lot to Mummy and me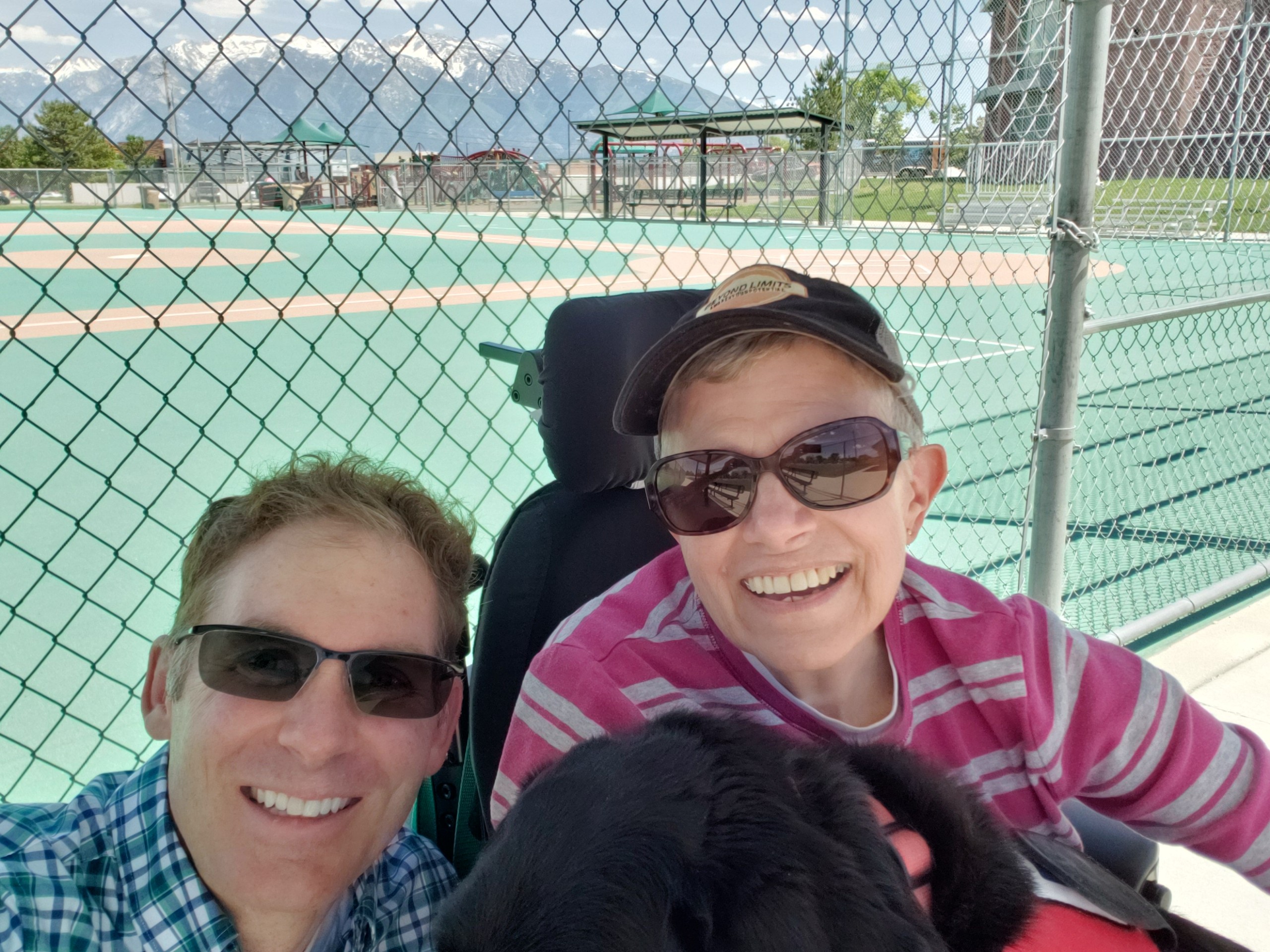 Then we headed up to Logan, Utah, our destination for the next few days. There were lots of highways and lots of road construction along the way. It was very warm and Miracle was really hot from having been shut up while we were visiting in West Jordan. Mummy props her phone, with the GPS, across the dial indicators on her dashboard. The glass must have been really hot. Suddenly, Mummy's phone, Vicky, flashed a terrible message: iPhone too hot—shutting down. We didn't know where to go. So we pulled off the highway and blasted the air conditioning. Then Mummy held Vicky in her lap for a while. After that, Vicky felt better.
We continued and found the Quality Inn in Logan, our base for a few days. The hotel is a little old, but the staff are super nice. We needed to get a good rest, because we had wonderful adventures planned for the next day.
The next day our friend, Pete, came up to Logan to show us around. Pete used to live in Logan, so he was a wonderful tour guide. Mummy really wanted to see Utah State University. That's where her daddy went to school. Going to the school made her feel very close to him. So of course, I loved that, too. We rolled around the old quad where there were building that Grandpa would have gone into. One of my favorites was Old Main.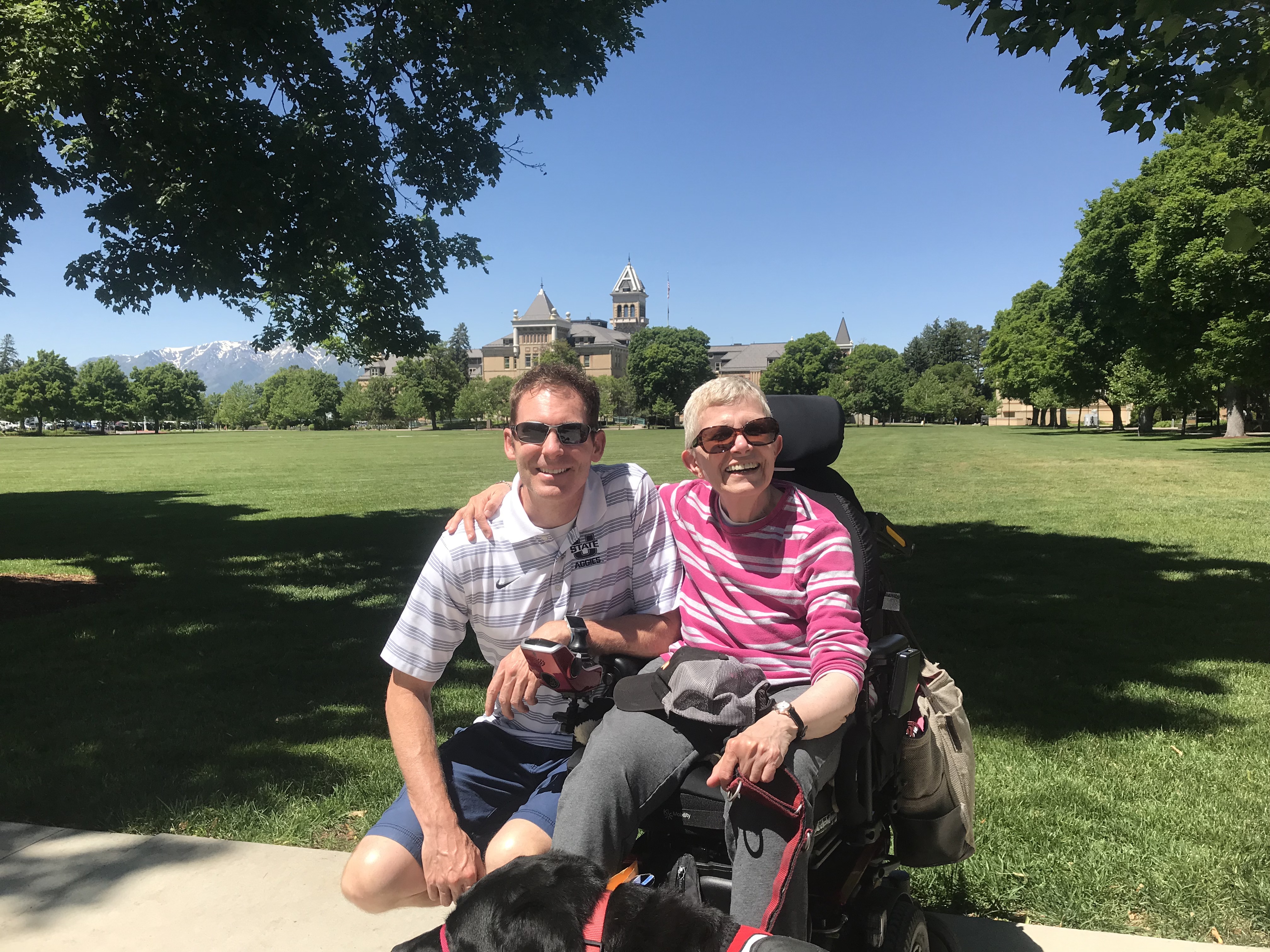 When we were done at USU, we headed up Logan Canyon for the scenic drive. That was spectacular. The best part came at the top when we saw Bear Lake. Bear Lake is amazing. Pete says that it is probably his favorite lake in the world. It changes color, depending on the weather: sunny, cloudy, stormy. It can be blue, green, aquamarine. As we approached and first saw it, it was aquamarine. While we there, it changed color a bit.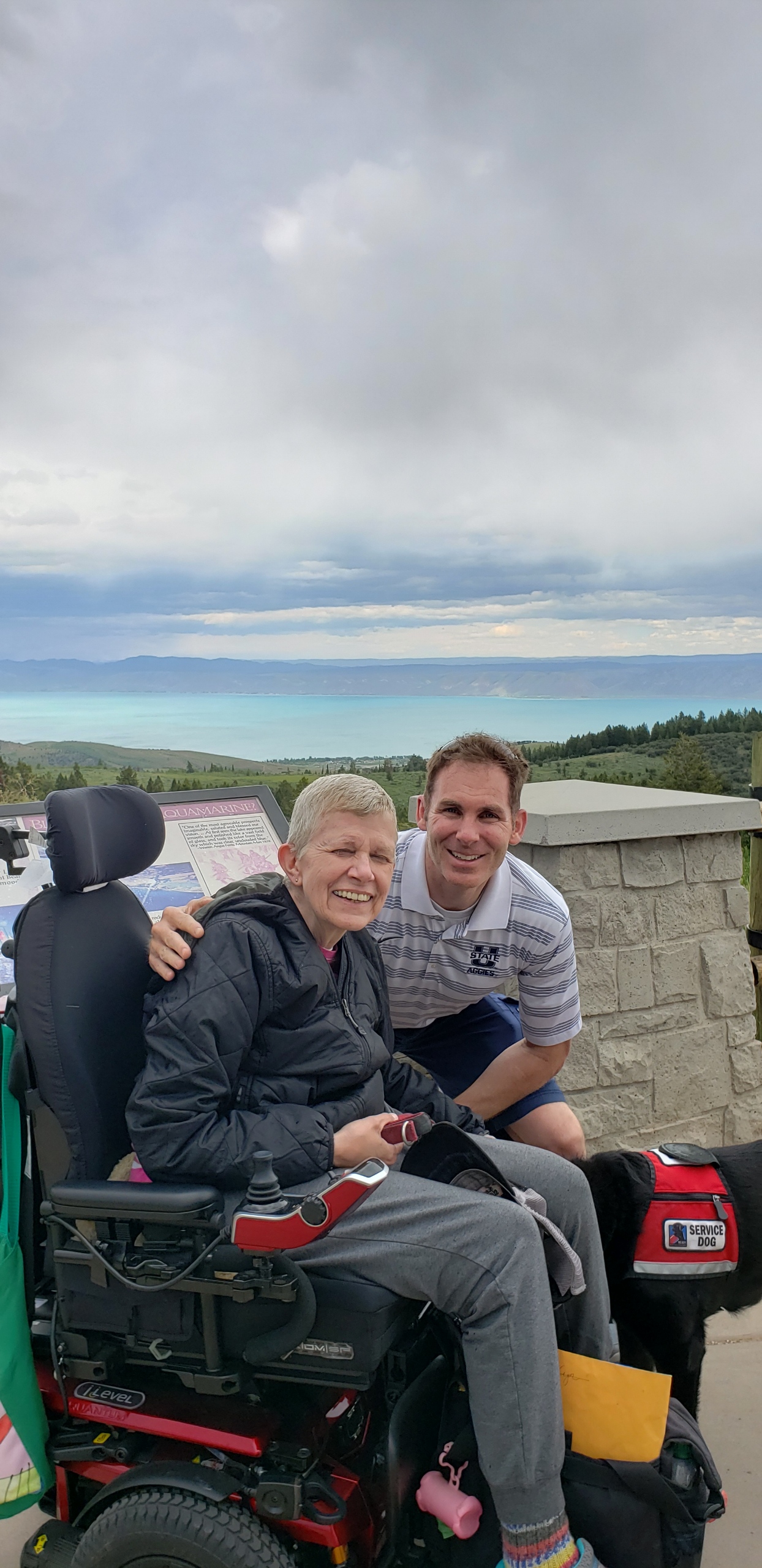 Then we drove down to the lake to LeBeau's, a Logan/Bear Lake institution. There Pete got one of their famous raspberry milkshakes.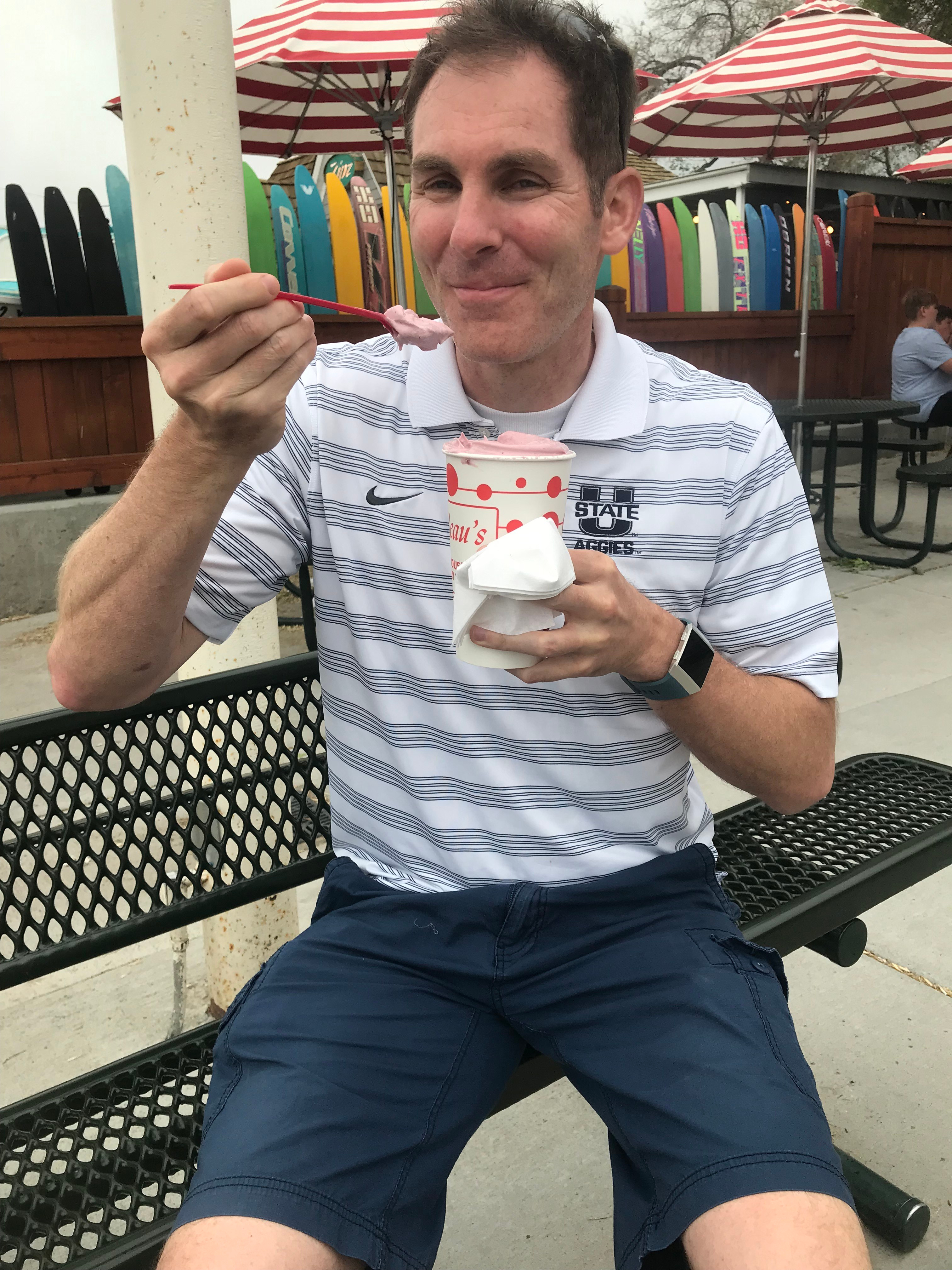 It started to rain, so we were off for the lovely drive back to town and to have a late lunch/early dinner. Pete treated Mummy at the Beehive restaurant. Mummy had a wonderful veggie stir fry. We haven't been eating out on our trip—not much fun with just us—so I was glad to see Mummy have a good meal with a good friend.
Afterwards, we had to say goodbye to Pete. He had to get back to work. But we will see him this fall at a conference. And we have invited him to Maine to come hike with us. We would love that—I so love camping and sleeping in our tent.
We have a little more time in Utah and more adventures planned. I'll try to blog again, soon.
Until then, hugs and wags.
Saint