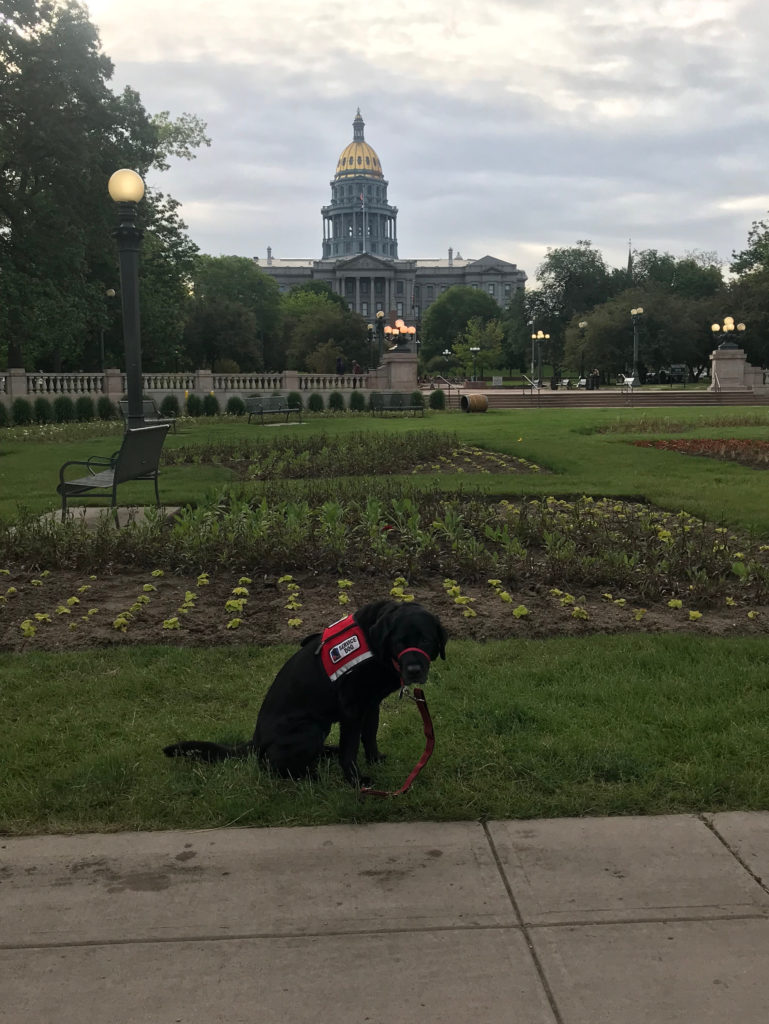 Hello Everyone. Saint here! I'm sorry that I've been out of touch for a little while. Mummy and I have just been so busy with adventures. But I didn't want you to worry, so I thought that I would catch you up a little on our time in Denver.
We went to Denver so that we could attend the GlobalMindED annual conference. The conference focuses on helping First Generation and At-Risk students. Mummy learned a lot and got very inspired. I learned, too. But, just between us, I also did take some naps during the presentations.
I was quite a hit at the conference. And you know what? There was another service dog there, too: he had a visually impaired mom. Mummy was the only one who had a beautiful wheelchair, though.
Mummy and I are not really city folks, but as far as cities go, we liked Denver. We made sure to drive into the city in the early afternoon to avoid rush hour. (Why do they call it "Rush Hour"? No one rushes then, that's for sure.). We found the hotel pretty well, but finding the parking was a challenge. We got that, though.
The people at the Sheraton were so nice. We did find that our accessible room had some major issues, though. The bathroom did not work well for Mummy and most of the things in the room that she wanted to control—thermostat, draperies, clothes rod—were out of reach. There weren't any automatic door openers on the outside doors, either. Mummy talked with the management to explain the issues. We hope that when they remodel the hotel in the fall that they will fix the problems.
While we were in Denver, Mummy called our next planned stop, the Super 8 in Casper, Wyoming. She was disappointed to learn that even though she had made the reservation for a wheelchair accessible room, gotten a confirmation and held it with a credit card, they had given our room to someone else. I could tell that Mummy was worried. She wondered where we would find a place to stay at such a late date. Wyoming isn't a very populous state, so our options were limited. After a lot of calling around, Mummy found us a room at the Holiday Inn Express in Cheyenne.
We found a nice park—the Civic Center Park—a few blocks from the Sheraton. So Mummy and I would walk there every morning and evening. It had gardens, statues, fountains.
While we were in Denver, we had the chance to reconnect with some folks from Mummy's past.
On Thursday evening, we visited with one of Mummy's former students from the University of North Dakota, Michael Tanner. Mummy hadn't seen Tanner in 12 years. He teaches kindergarten near where we were staying. It was wonderful for Mummy to have the chance to catch up with him. He and I got along great, too.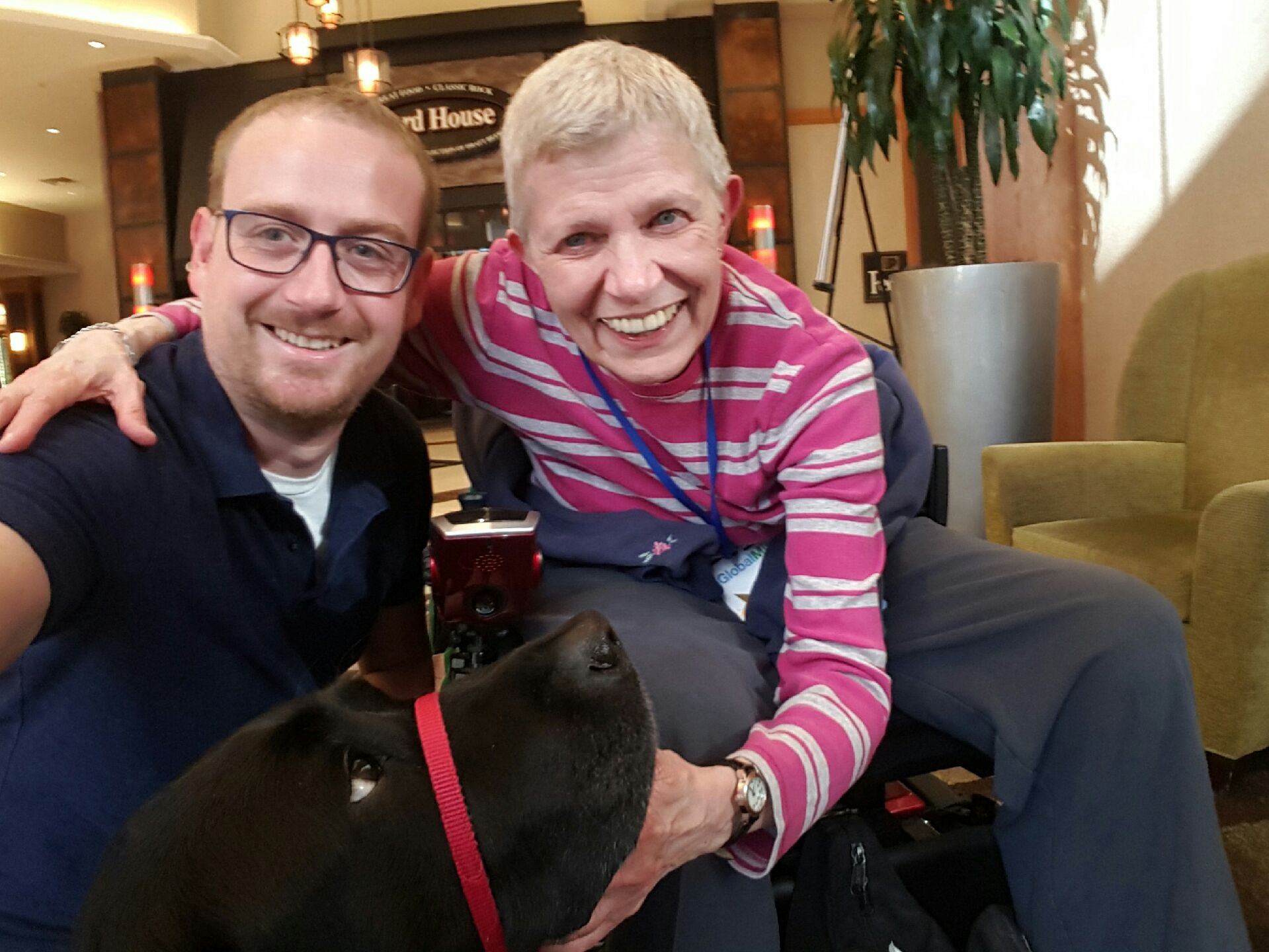 Then on Saturday, before we left for Cheyenne, we had a chance to visit with Mark Yaeger, a friend from Maine. We became friends with Mark when we were first going to start hiking. We hadn't seen Mark in a couple of years, so it was wonderful to fill in the blanks. And he even cleaned our windshield for us (we had every bug from Maine to Denver stuck on Miracle).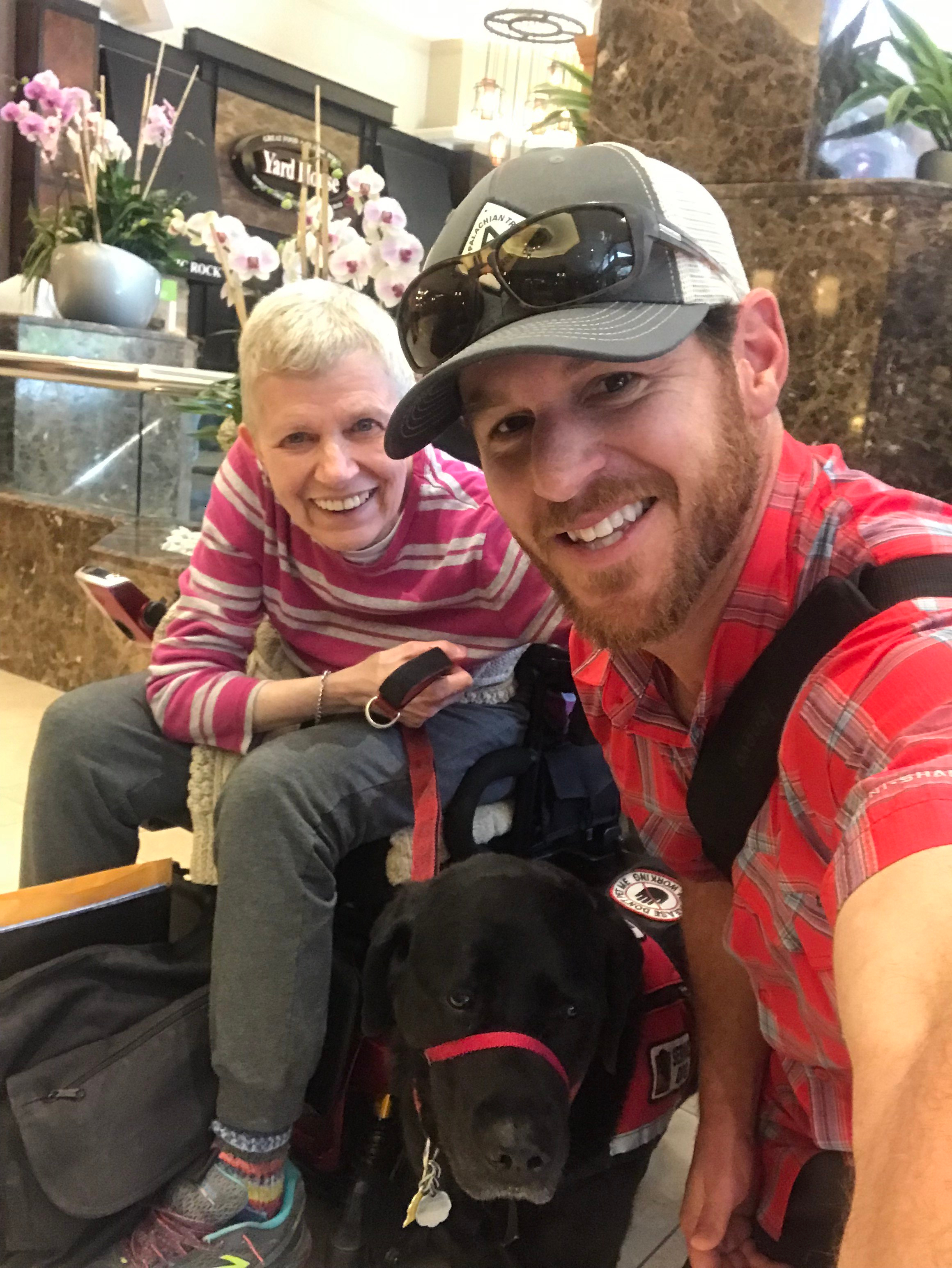 We don't have many more visits lined up. But maybe we'll make some new friends. And I know that we'll have lots more adventures to share.
I'll try to blog again soon. Until next time, hugs and wags.
Saint