Hello, everyone. Saint, here! Mummy and I are on our way.
We got started yesterday, Saturday, June 1. It was all familiar territory. We headed down and stayed in Enfield, CT, for the night. It was really wonderful because Aunt Sharon came all the way from Massachusetts to see us and took us dinner. We had a wonderful visit.
Today we went back up into Massachusetts and then all the way across New York State. That was awesome. We went by some major cities that we have always heard about: Albany, Syracuse, Rochester, Buffalo. We went by Ithaca, the home of Cornell. The country was unbelievably lovely: rolling hills of farmland. There were dairy farms, apple orchards and lots and lots of vineyards. We covered a lot of miles, so did not take many photos.
Tonight we are in Erie, PA. That's Erie, as in the lake and the canal. Today we were driving along the historic Erie Canal Heritage Corridor. As you can tell, we're having a great time.
We thought that everyone would get a kick out of the Presque Isle photo. I guess that it just shows that no matter how far you go, you can't really leave home behind.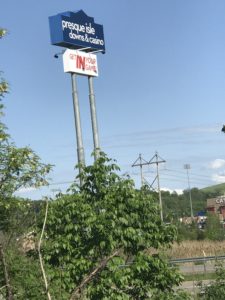 Mummy and I will try to keep you all up to date on how we are doing.
Until next time, wags and kisses.
Saint