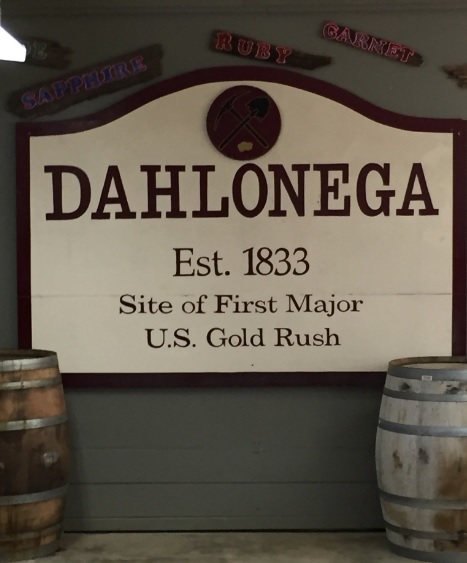 After we left Maine and really New England in general, the highway driving changed a good deal. We recalled that the interstates were really built for commerce—so that tractor trailers could move goods. Most of the highways were two lanes wide, with sometimes passing lanes on hills. Often we were one of the few cars on the road. It wasn't unusual to be boxed in by trucks. The trucks generally drove really well. But it could be a bit unnerving. Some of the trucks were tandem tractor trailers, so that made driving even more interesting.
We noticed other things in our driving. Maine has a billboard law. Many of the states in our travels did not. That billboard law really does a good job of preserving some of the natural beauty of the land. Maine (and apparently many New England states) must also have a law against adult entertainment stores. We had them in Michigan and North Dakota. But I don't recall seeing them in Maine or New England. Perhaps that hearkens back to the blue laws and puritanical standards. But with the Internet, I wondered why people would need such stores.
After Pennsylvania, we were in Maryland and then West Virginia for a very short time. We did see a sign for Harper's Ferry and gave a shout out to ATC and to Pete Roe. But we plugged on. Finally, we entered Virginia and after a bit, came to our destination for the night: Troutville, Virginia. They had been so nice before we even arrived. I had forgotten to cancel one of my nights staying there. They called me on the night of March 16 at around 10 p.m., asking if I would still be arriving. I was appalled that I had forgotten to contact them. I apologized profusely. Since they have a 6 p.m. cancelation policy, they could have easily charged me for the night of March 16. But they did not do so.
I got an education at Troutville. They are experiencing some construction, so actually getting to them was a bit of a trick. I don't always think of Virginia as the real South, but it clearly is. The woman who called to check on us on March 16 and the woman who checked us in sounded very southern. And she described the extensive breakfast offerings, including sausage gravy and biscuits—true southern fare. It was raining in Troutville. The weather for our trip had not been fantastic—drizzly and cool, but no snow or ice. Our room had an outside entrance, but we were able to unload without too much trouble. The next day was to be a pretty short day—only about five hours to Dahlonega. When I had talked with Sean that Monday, he had suggested that Saint and I stop by on our way to Dahlonega. We debated whether to stay in Troutville for two nights. The room was very reasonable. The room at Dahlonega was much costlier. But we thought that it was probably wise to try to arrive on Saturday and then have that night to rest and catch our breath before meeting up with the rest of our team on Sunday.
Sean had suggested that we stop by to see him on our way to Dahlonega. He said that he was only about 90 minutes from there. So we decided to go slightly out of our way to visit briefly. We started off on Saturday morning in drizzle and 40s. But the weather improved as we went. We drove more in Virginia, then North Carolina then into South Carolina. We got to Sean's in the early afternoon.
Sean welcomed us cordially. He had met with the Clemson kids that morning to go over information. He wanted to welcome us to his house, but had underestimated how inaccessible it was. It looks like a lovely colonial—with lots of steps. He had some skate board jumps that he got out of the garage, but they were much too steep. He had no planks and couldn't borrow anything appropriate. So we sat outside for a visit. Saint and I both had some water. We met more of Sean's family, too. We met his youngest son, Nate, who was going to go with us for three days of the hike. Nate is 15 and quite fit. He and Sean have done a lot in Boy Scouts together. They spent a couple of weeks this past summer doing an extensive hike in New Mexico. I'm not sure why Nate wanted to take part, but he was game. It would be a challenging environment for him, since the next youngest person would be 19 going on 20 and a college student.
We met Sean's wife, Heidi, who had been napping, but came out on the steps to see us. And we met their dog, who is a Catahoula Leopard Dog. We stayed for a couple of hours, learning a bit more about Sean and Heidi's backgrounds. They both grew up in Utah. Heidi works from home. The house is close to a lake—the one on which the movie "Deliverance" was filmed. That's a movie in which some mountain men kidnap a group floating down a river in the south and abuse them. Probably just as well not to share that fact with the folks at home who were already worried about Saint and me.
The trip from Sean's to Dahlonega was supposed to take a couple of hours. One thing that we were learning about the South was that almost any paved two lane road was called a highway. So we went on a lot of "highways" to Dahlonega—but no interstates. I still use my Garmin, much to Sharon's chagrin. She much prefers Google maps on her iPhone. I should have listened to her. Garmin took us down something called "Sandy Bottom Road." They weren't kidding when they called it "sandy bottom": it isn't paved. Yet Garmin expected us to go 30 mph. No way. Then we came to a one-lane bridge. I was beginning to wonder what kind of place Dahlonega could be. But it's a good-sized place with a number of hotels/motels, restaurants, shopping. It's quite a tourist draw. It claims to be the site of the first gold rush in the United States.
We were happy to find the Holiday Inn Express, on a hillside. The weather was cool and very windy. We were also happy to check and find that our room was still reserved (some were being turned away). We asked if we could leave our van there while we hiked. The lady at the desk said that that was fine but the Holiday Inn would not be responsible.
The inn itself was overrun by hikers. There were a lot of young people, particularly young men, clad in hiking clothes. Saint and I did not exactly fit the stereotype. We wondered if people would be surprised that we are hikers.
When we went outside to get a load from the car, we heard someone call "hello." Although I couldn't imagine that we would know anyone there, we turned instinctively. There was Miss Janet, a lady whom we had met at the ALDHA Gathering. Miss Janet takes care of hikers—shuttles them from place to place, feeds them at a hostel, is a trail angel and does some trail magic. She asked if she had not met me at ALDHA. I said yes. She asked if we were preparing to start our hike and again I said yes. She asked if Hopper and Honey and Bear were around. I said that I expected them tomorrow. She said that Honey and Bear had been around for a while. She had been up to Springer recently and had just missed them doing some trail magic. She asked if they were staying at the campground and I said that I thought so.
I told Miss Janet that we were to meet our first hiking group, a team from Clemson, the next day. I told her that we did not have a team lined up right away for after that. She said that she had some ideas for that. She said that she would like to be there when we started out. She said that she had a friend who cannot walk whom people got through Georgia last year.
It was nice to see someone so supportive and nice. She didn't manage to catch up with us for the start of the trail. When I mentioned seeing her to Hopper, Hopper said that Miss Janet probably wound up tending some hikers—that's what always happens.
In our next blog I'll talk about meeting Honey, Bear, Hopper's in-laws and the Clemson Crew; pack shakedowns; and our exciting first week on the trail. So please check back and in the meantime, please remember that It's All About the Journey.