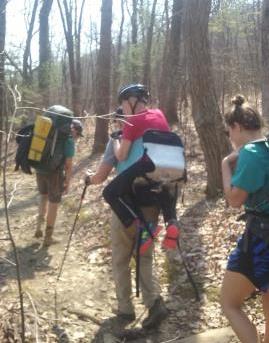 Guest written by Philip Gee, AT Hike Volunteer
Honestly, I decided to go on this trip on a whim. It was the last day to sign up and I decided that the trips' uniqueness intrigued me and was something that differed severely from the usual college spring break. I love the outdoors, camping and always found the idea of hiking the Appalachian Trail appealing, but without gear or experience the idea was exactly that, just an idea. This trip not only taught me how to survive the trail, but more importantly how valuable teamwork is and how much I can accomplish when I dedicate myself to something bigger than me.
Coming into this experience I was filled with excitement and a little bit of anxiety as to whether I could actually do this. The first night did nothing to inspire confidence in myself as I laid in my hammock (incorrectly) in freezing temperatures, unable to sleep and with self-doubt circulating in my head. I will admit that it was comforting to find out that the rest of the group had a similar experience that night. With my mental and physical toughness tested the first night I was definitely more worried for the actual hiking and carrying aspect of the trip. Fortunately, things started to feel right when the sensation in my feet came back to me and the group successfully carried Jacqui up Springer Mountain.
Getting to know the other students (Jimmy (Gold Member), Lindsay (Screech), and Brad (3B)) on this trip was hugely beneficial and I fully expect to be friends with these people for life. I mention them in my personal reflection not only because this trip would be impossible without a strong team but also because I realized that a lot of them came on this trip for personal reasons and to figure out things on the trail. This is something I was not originally considering, but figuring things out about myself and my life happened regardless due to the extreme nature of this trip that stretches people to their limits. The trip exceeded my expectations in this way and I am very grateful for things that getting involved in BEYOND LIMITS taught me about myself. On a less serious note, I figured out that I will be a lifelong hiker and have developed new goals for myself of finishing the Appalachian Trail and many other trails!
I would do this trip over again in a heartbeat and am hopeful that I will have the opportunity to assist Jacqui on a later portion of the trail when I get out of school!