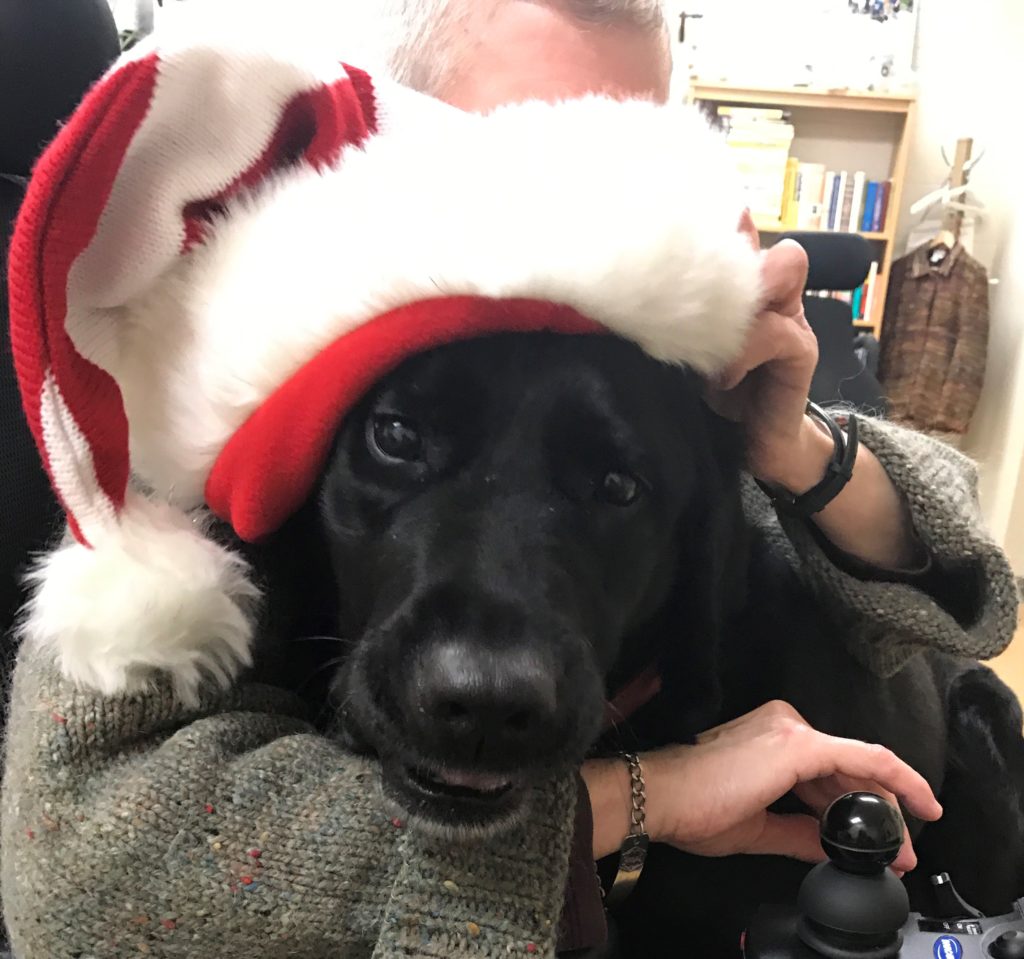 Hi everyone! Saint here. Did you know that that the holidays are here? I just love this time of year. Everyone is always so nice and thoughtful. Mummy buys presents for her family and for me and she always brings in food to her students. I don't eat any of that of course, but it sure does smell yummy.
This year, Mummy and I are going to go visit my Aunt Sha and spend some time with her over the holiday. It will be nice to go see her again. Mummy also has some important errands to run. She says we have to go get her chair fitted for a special device so she can lock it in to drive with. Her old chair had this, but her brand-new one didn't come with one, so we are going to fix it. And we will be going to see her doctor at Massachusetts General Hospital. We see him a couple of times a year. He is always really nice to Mummy, so I like him a lot.
Wow, can you believe everything that we have done this year? Mummy and I have been really busy. We have made a lot of trips to new places and have met so many nice people. If you are one of them, Mummy says, "Hi!"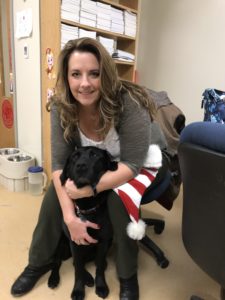 Mummy's students have been extra busy too. They have been writing and making phone calls to people and helping to plan for our big hike. Mummy sure has some great students. They are like our family and we love and appreciate every single one of them. Without their help, we might not have been able to have gotten so much accomplished.
Over the holiday break though, all of the students–and Mummy and I too–will be away from school and taking some time to relax and rest up from the busy semester. I think I will take a break from blogging too. I want to spend some extra time on Mummy's lap. She's the very best snuggler ever!
I hope that while we are away you take the time to spend with your loved ones. Family is important and the holidays are a special time of year. May you all be blessed with good fortune and love.
Don't worry though. After the first of the year, I'll be back and in full production. Mummy says that 2017 is going to be momentous. I think that means really big. I know it is going to be really busy too. We have a LOT to do. Our hike will only be three months away and it will be here before we know it.
I hope you come back and join us to see where our adventure takes us. Until then, we wish you happiness, peace and love.
From Mummy's and my house and heart to yours, Happy Holidays!
Until next year…. Take care & Be well.
Love,  Saint