Hello everyone! Saint and Dusty here.
Mummy took us to a special place in town on Tuesday, February 7, 2023. It was –7 degrees, but we ventured out in Miracle –the van Mummy drives– anyway. The drive was quick. We pulled up to the building and got inside from the cold with ease.
For five years we have been going to Salon 207 because this is where Kim works. Kim is a beautician who cuts Mummy's hair. Kim also makes sure that Mummy always has access to the ramp to get into the building even when guys in Jeeps think the accessibility ramp is a parking space. That has happened often. It's good to have Kim looking out for us!
Mummy's haircuts aren't long, but we make the most of our time by sniffing around. Kim lets us explore the room while she and Mummy are busy. Sometimes there the sun shines through the windows onto the floor and that makes for a great spot to lie down. This time there was no sunny
spot to lie in, so we spent time together, by Mummy's side, until her hair was all cut.
When we were getting ready to leave, some other costumers were just coming in. We greeted them before heading back outside, going down the ramp, and then into our seats inside of Miracle. What a good day.
Here is a photo of us spending time together inside Salon 207 during the hair appointment!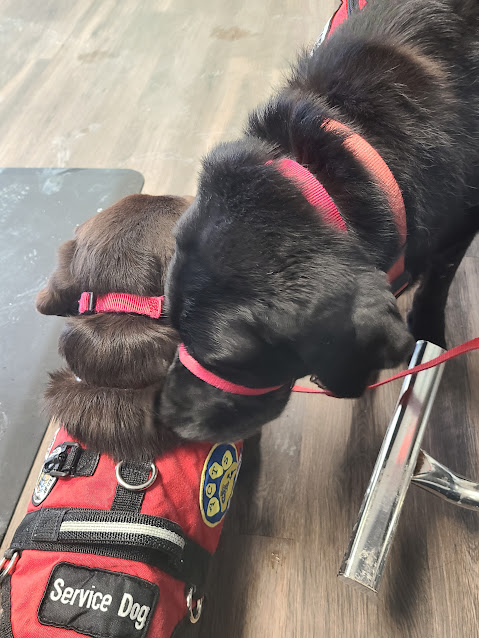 Until next time. Take care. Be well. Hugs and wags.
Saint and Dusty