Hello everyone! Saint and Dusty here.
Today –Monday, March 13, 2023—was such an unusual day. Mummy woke us up very early so that we would be out of Presque Isle by 1 a.m. We had a goal to get to Washington, D.C., with 11 of our friends who wanted to come with us. For us this meant catching two flights on time. Good thing we really enjoy catch!
We arrived at Bangor and caught our first flight. We flew in style when Mummy got us moved up to first class. We got many smiles as we greeted each person walking to their seats on the plane. All of the passengers loved us!
There were also many good smells and crumbs surprises under each seat.
Our second flight took us to Washington, D.C. There were not as many crumbs under these seats as there were on the first flight. We got to nap the rest of the way there. When we woke up, we had done it! We were in D.C.
From then on it was back to riding in a vehicle. A nice man in a wheelchair accessible van drove us to our hotel.
Teri was waiting at the hotel for us! Teri has helped Mummy and us many times. This time she is attaching wheels to a big kennel so that Mummy can pull us around in it. This will be great for our journey through Washington!
Here is a photo of us spending time together inside in the airplane.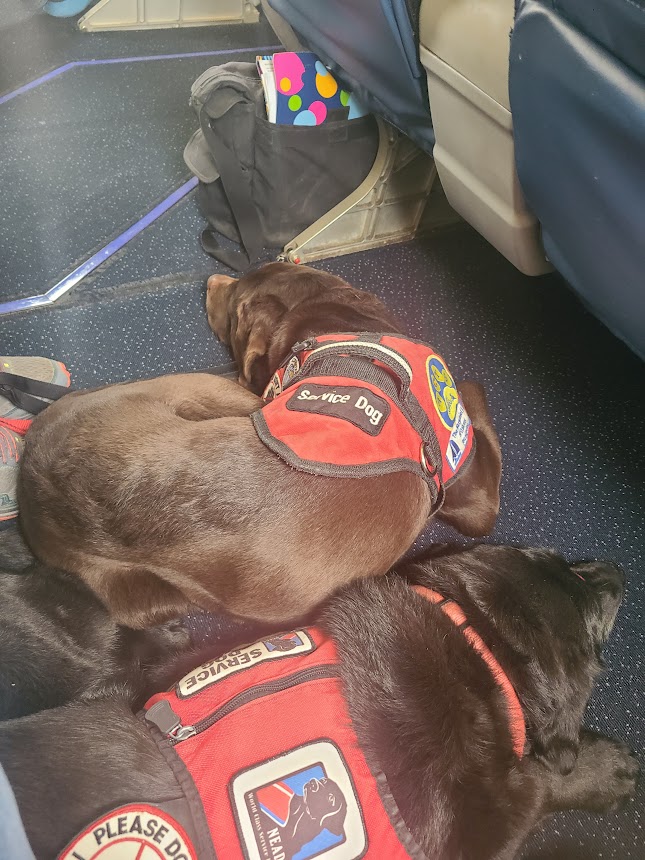 Until next time. Take care. Be well. Hugs and wags.
Saint and Dusty