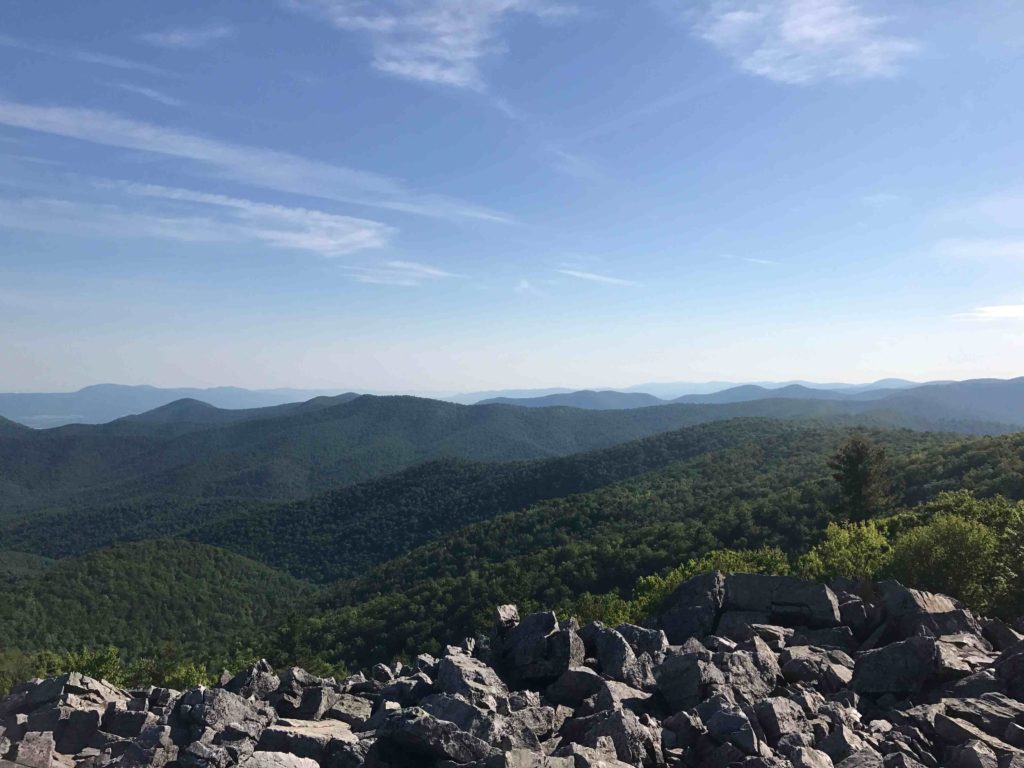 I got involved with BEYOND LIMITS without ever setting foot on the Appalachian Trail or even Mount Katahdin, the site of the first BEYOND LIMITS expedition. To this day, I'm still not what many people might call an "avid" hiker. I enjoy the outdoors and always make sure to include physical activity in my daily life. But the only challenging hike I've done thus far is in Aroostook State Park in Presque Isle. I was only a high school student when I hiked that trail and at the time I thought it was one of the most daunting mountains that anyone could climb.
Then I began college as an English major at the University of Maine at Presque Isle and realized I had a lot of growing to do as a person. I met Dr. J in her Intro. to Professional Communication and Journalism class during my sophomore year. One semester later, I learned about her July 2015 climb of Katahdin with a group of dedicated volunteers who carried her on their backs to the top. I had no idea that within months Dr. J would recruit my classmates and me for BEYOND LIMITS' biggest adventure so far: a hike of the AT.
By the time I entered Dr. J's Evolving Media class in Spring 2016, I had already found many of my niches in academics. I was steadfast in my pursuit of literary fiction and poetry writing and had found a second passion with journalism, particularly with magazine and newspaper freelancing. I was aware of Dr. J's work ethic and knew that she would come up with a BEYOND LIMITS project that would challenge everyone. On the first day of Evolving Media, she announced that she and a group of volunteers, whom she had yet to recruit, would thru-hike the AT from March to September/early October 2017. I remember feeling motivated to help her achieve that goal and did not hesitate to begin my chosen assignment: researching potential universities, outing clubs, and other recreation groups to recruit trail support volunteers. Trail support volunteers would help hikers with everything from carrying large packs to driving them to rest stops to offering a place to sleep for the night. My list of possible volunteers became much longer than I anticipated, not because I wanted to be the "teacher's pet." I thought that BEYOND LIMITS could benefit from having as many options for recruitment as possible. The greatest fulfillment was knowing that my work had the potential to affect many people for the better instead of simply earning me a good grade for the course or turning in an assignment that only a professor and a handful of students would see.
As I took more courses from Dr. J that involved BEYOND LIMITS, I soon realized that any expedition that the team took on was not about her. In fact, the messages of the Katahdin climb and Appalachian Trail Adventure (ATA) have never been about helping someone who cannot walk. Instead, BEYOND LIMITS is about all coming together and pushing themselves physically and/or emotionally further than they thought they could go. That mission was what my classmates and I strived to achieve with whatever work we did during our time with Dr. J.
The semester after Evolving Media, in Dr. J's upper-level Professional Communication course, she sent everyone a list of various potential volunteers she had contacted that summer. None of those people had responded to her emails. So our job was to first email, then call, various university professors, outing clubs and community recreation groups to promote the opportunity to volunteer for the ATA. I had to call most of my contacts because they did not respond to my initial emails. I probably contacted over 30 people and only recruited a few of them. Many did not have positive reactions when I told them about the hike nor did they stay on the phone long enough for me to completely explain the project. But reaching out to them helped me conquer my fears of talking to people I didn't know and spread more awareness of BEYOND LIMITS.
Promoting the ATA gave me even more personal passion for the project. I discovered that I, too, was part of the BEYOND LIMITS team and had gone far beyond what I believed to be my limitations. I'm not an outgoing person by nature. Until college, public speaking and participating in class discussions had always made me self-conscious. But because of BEYOND LIMITS, I rid myself of a lot of those fears and realized that my contributions were just as valuable as those for whom speaking aloud comes more naturally. My classmates and I never experienced the physical burdens of hiking a trail like the AT. But all of us felt a connection to BEYOND LIMITS and brought unique perspectives and talents to the ATA. Sometimes we paired up to help one another cover more ground during the research phase. In the Evolving Media class, three students, Monica Hewitt, Ning Sun and me, researched volunteer options. I focused on trail support people while Monica researched opportunities for trail hikers and Ning targeted homebase volunteers. We divided up the states along the AT so that all of us could do more vast research without missing any potential volunteers. Even in the Professional Communication course, all found their own niche despite the fact that we were all contacting potential volunteers. All of us took our own approach to the outreach process and learned how to persevere even when some of the people we contacted did not understand the mission behind the ATA.
Whenever I think about my time with BEYOND LIMITS, I most often remember those team meetings with Dr. J and my classmates. Not everyone always agreed on what was the best way to recruit volunteers or how to promote the ATA to certain audiences. But what I felt as the semesters went on was a growing sense of camaraderie and respect among our group. I knew that I could say my opinions without worrying about the others criticizing me personally and that I would do the same for them in return. Though I was one of the few students who was not a professional communication and journalism (PCJ) major, I never felt that I didn't belong. BEYOND LIMITS gave me one of many opportunities during college to form bonds with people that I still consider my friends. In many ways I got to "hike" a "trail" with all of them because we started a project that had no clear outcome, but came out on the other side with the satisfaction of knowing that we helped make BEYOND LIMITS' now completed section hikes of the AT possible. I look forward to keeping in touch with my fellow team members in the coming years and seeing how BEYOND LIMITS inspires their own accomplishments. They have helped me realize that no matter what my goals are, I can move forward despite obstacles and make an impact that reaches far beyond the classroom.
Since Dr. J left for the AT in March, I graduated from UMPI and began a career in media relations while also managing the BEYOND LIMITS Twitter account. But I have realized that I'm still far from achieving all my goals in life. In the future, I want to earn a master's degree in English and master of fine arts in creative writing so that I could teach those subjects at the college level. The latter degree will help me further develop as a creative writer and produce work that is more suited for publication. I'm always aware of the challenges I will face once I officially pursue those degrees. There are many times when I feel discouraged about how I will even find the courage to go after what many people might call "impossible" goals. But then I remember what BEYOND LIMITS is all about: learning to surround myself with people who believe in CAN instead of CAN'T and getting rid of the barriers that I have too often placed upon myself. I know now that only positive things can happen when all of us dare to take those first difficult steps on our own journeys.