Hello Everyone. Saint and Dusty here! 2020 has been a year of changes and adaptations for our family. We knew something was wrong when our time was cut short with students in March. It has been a strange year, but something good came out of it this summer when we got Miracle 2.0. After years with Miracle 1, Mummy made the decision to upgrade the van. We welcomed Miracle 2.0 to the family during this summer and we couldn't be happier.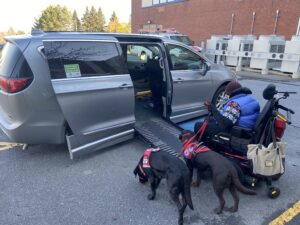 Miracle 2.0 is a Chrysler Pacifica, with new and improved features. Saying goodbye to Miracle 1 was not easy, since we had been on so many trips with her. We had put thousands of miles on Miracle 1 over the years, with trips to the West Coast and Canada. Miracle 1 carried us to many destinations over the years. These long road trips also brought along some van issues and tire problems. It was time for Miracle 1 to get some rest for all her hard work. A new van was brought into the picture and Miracle 2.0 was born.
Miracle 2.0 has a new sporty and elegant look, which will be perfect for our long trips. With a
well-functioning automatic ramp for Mummy and comfy seats for us, Miracle 2.0 is already
doing well. Miracle is bound to have some technical issues as the years go on, but new
adventures are not too far in the future. Although Miracle 1 was a special van, Miracle 2.0 plans
to make even more memories with us. These upcoming road trips might not be for a while, but
Miracle 2.0 is ready for it. With Mummy driving, us in the back and Miracle 2.0 in drive, the
world is an open road, and we can't wait to see it.