Dusty Lowman is a purebred chocolate Lab who was born in July of 2017. Dusty was purpose-bred to be a service dog, but there is no guarantee that prospective service dogs will be able to complete their training and graduate. Only one third of dogs who train to be a service dog actually graduate and go to a person as one.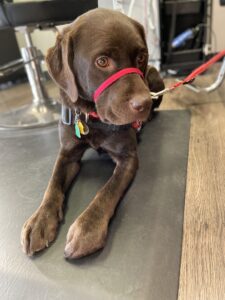 Dusty is the newest member of the Lowman family and has been a part of the family since August of 2019. Dr. J wanted to get another service dog before Saint, her older service dog, retires so that the new service dog can learn all the tasks from Saint. Dr. J needed a transition so that she would still be able to have the tasks get done in a timely manner.
  Dusty comes from a program called Assistance Canine Training Services, or ACTS. ACTS is a nonprofit organization that trains facility therapy dogs and mobility service dogs. ACTS is run by all volunteers, so Dusty was raised by a few: Sally Burke, who is a puppy raiser in the ACTS organization, and a college student named Shelby Packard, who brought Dusty to classes with her to see if Dusty could handle the environment.
  Dusty is learning the specialized things that Dr. J needs her to do. Despite the fact that the dogs are trained, they aren't trained in the owner's environment. So, Dr. J works and trains with both Dusty and Saint every day to keep their skills sharp and help Dusty adapt and learn in her new environment.
  ACTS wanted Dr. J to have a smaller and gentler dog, since Dr. J is small and soft-spoken. When Dr. J got Dusty, there were two weeks of training, mainly with Shelby.
  Dusty is still a baby, and learns something new from her big sister and Mummy every day. Dusty loves meeting new people, getting pats and giving kisses to everyone she meets, which has lovingly earned Dusty the nickname "Chocolate Kiss." She also loves to play ball, play with her big sister, eat, sleep, and travel and go on new adventures with Saint and Mummy.
  Dusty's journey as a service dog is just beginning, and she has a long way to go, but she has a team of people (and dogs) behind her.